Products
 Contact us
Wuxi Hengye Electric Heater Equipment Co.,Ltd
Add: No.38, Luou Rd., Xituo Area, Hudai Industrial Park, Binhu District, Wuxi
Tel: +86-510-8560 0787
  +86-510-8561 3197
Fax: +86-510-8546 3203
Contact:Mr. Wang13706181461
     Mr. Pu13861896520
     Mr. Wang13771478936
E-mail: wxhydr@qq.com
    sales@hengyecn.cn
    httdq@163.net
Web: http://www.hengyecn.cn
Electric Heaters
Explosion-proof electric heater with high efficient heat exchange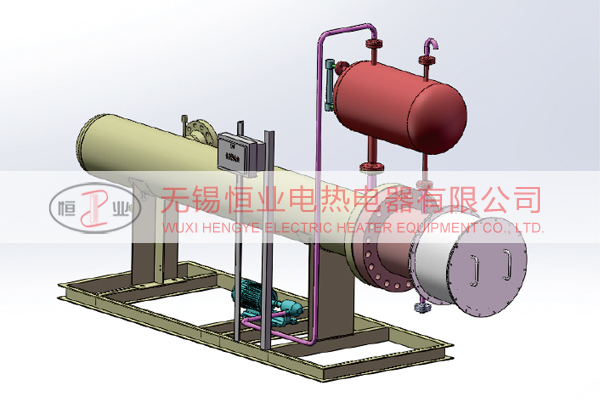 Brief introduction:




Explosion-proof electric heater with high efficient heat exchange is suitable for indirect heating or warming the flow and pressure medium. Through thermal medium, such as conduction oil, being heating in the tube side, the heat is transferred to high pressure medium in the shell side. The high pressure medium enters the input port driven by pipeline pressure. Along with the route set inside the electric heater, the heat generated by indirect heating the conduction oil will be brought away. And then the temperature of medium can meet the process required temperature at the outlet of electric heater.

Performance parameters:




Explosive-proof grade: Exde Ⅱ CT1-T6 Gb
Nominal voltage: ≤690V、50Hz/60Hz
Nominal power:10kW--500kW; high-power can be
designed non-standard
Conduction oil temperature in tube side:≤350℃
Medium temperature in shell side: ≤280℃
Power error:≤±10%
Protection class:≤IP66
Dielectric strength:≤2500V/min


Functions and features:




◆ The power of single heater can be non-standard designed
◆ Heat the medium by conducting and convecting the electric energy. The thermal efficiency is almost 98%.
◆ Blast resistant construction can operation normally in II explosive gas hazardous areas.
◆ The structure is safe and reliable. It can be designed basing on technological requirements.
◆ Going green and environmental protection, conform to national policy.
◆ It is automatic control system that realizes interconnected control of temperature, pressure, and flow.
◆ High precision, quick reflexes, outstanding energy conservation in temperature tracking response
◆ Have over temperature protection function to avoid damages to the electrical heating element when
encounters interrupted flow and other unexpected situations
◆ The internal structure of the heater is designed basing on thermodynamic structure, no heating dead angles.
◆ It is convenient to change the internal electrical heating element
◆ Automatic refueling by using control system to realize unattended operation
◆ For those dangerous or high-pressure mediums which cannot be heating directly, the security is improved greatly.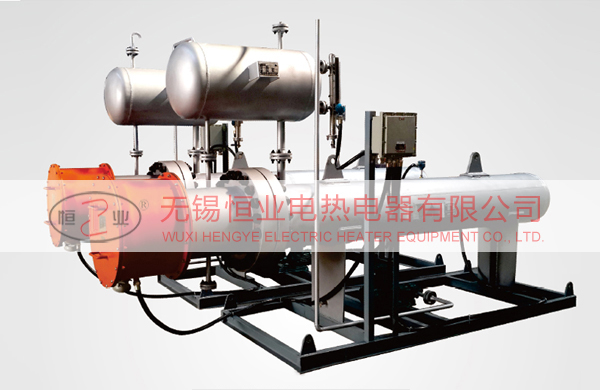 Two sets 200KW explosion-proof electric heater with high efficient heat exchange